Household portable 400m3/h high-efficiency air purifier
Product name: Household portable high-efficiency air purifier
1、Functional features
The working principle of the air purifier is: the air is pumped into the machine by the fan, and the air is filtered through the built-in filter and the UV lamp is sterilized. It can mainly play the role of filtering dust, peculiar smell, toxic gas and killing viruses and bacteria.

A total of five layers of filter layer is mainly divided into: initial effect filter layer, PET protective net, H12 level HEPA layer, Columnar Activated Carbon, metal grid.

And equipped with UV light box at the top, built-in UV germicidal lamp to kill viruses and bacteria through the air flow.

The function introduction of the five-layer filter layer: the filter element adopts a ring-shaped enveloping design to ensure low wind resistance, smoother air in and out, and higher purification efficiency; the five-layer progressive structure is deepened layer by layer, and it strongly absorbs indoor pollutants such as formaldehyde.
Primary filter layer
Filter out large impurities such as hair and coarse fiber debris etc.
PET protective net
With electrostatic effect, remove large particles, while protecting the HEPA filter
H12 HEPA filter
99.5% dust filtering capacity, effective sterilization
Columnar Activated Carbon
Effective adsorption of formaldehyde / VOC and other decoration pollutants
Metal frame
It supports the filter screen shape.
WIFI allows the phone to be controlled remotely.
2、Schematic diagram of air purifier structure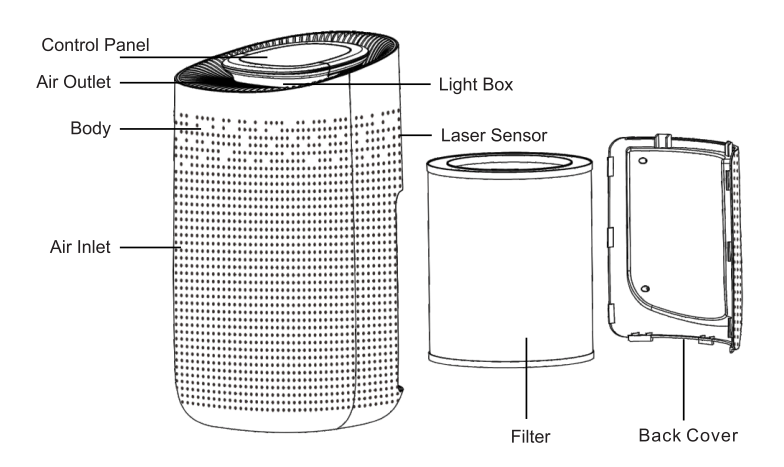 3、Operation instructions:
Connect the power, all indicators will be on for 1s and then off. After that,the machine will be in standby mode.
Button Operation
Power Button
Wind Speed Button
Timer/WiFi Button
Light/Child lock Button
UV/Filter Button
Reminder of Replacing Filter
This machine is marked with WIFI remote simulation, please refer to the manual for the specific operation steps of connecting to WIFI.
4、Product advantages:
400m3/h ultra-high purification rate
Use noise reduction and mute processing to keep silent all night.
Heat-resisting material
High-quality wind wheel 360° air intake, active purification
5、Product parameter
| | |
| --- | --- |
| Voltage(V) | AC100-240V 50Hz /60Hz |
| Power(W) | 48 W |
| Dimension(mm) | 270*303*497mm |
| Net weight(KG) | 4.6KG |
| Color | White/OEM Color |
| Noise | <61db |
| CADR | 400m3/h |
| HEPA Level | HEPA 12 or Customized HEPA 13 |